Swagata shares her experience of fraternal twin loss. Swagata's cord prolapsed at 26 weeks pregnant. The twins were born via emergency c-section on 13th January 2020, they lived for 12 and 48 hours.
———————————-
I am an Ex-Radio Jockey, an International Voice Over artiste, I own Boyaam, the Event Curation, and I am a mother. A bereaved mother of twin boys, Gamma & Gannu.
My husband and I named them Gamma & Gannu when they were inside me. These were funny nicknames, something we thought they will fuss about, something only their parents will call them, something they will hate when they grow up. When they passed, we decided to keep calling them by these names. And now everyone calls them by these names.
Conceiving fraternal twins naturally was a dream come true. We had always wanted twins. And these twins were conceived after an early miscarriage and a medical abortion (I had done a CT Scan unknowingly, so we had to abort at 7 weeks). But at week 9, I started spotting.
There were new hurdles every week, many hospitalizations, severe bleeding. But babies were just fine and growing well. Gamma was the obedient one, when I tapped he would respond by moving. Gannu on the other hand was a lazy bum, like me!
It took us 3 days to get our 20-week scan done because he just wouldn't budge. He slept with his bum up and wouldn't show his face. But boy, did he kick! Especially if his dad tapped and said hello. He would continuously kick 4 times hearing his dad's voice! His kicks were like tremors. 
All was fine until 22 weeks when my water broke from one of the sacs.
Gamma had no fluid. But this resilient baby of mine continued to do well. I was in the hospital for a month with non-stop leakage of amniotic fluid, but Gamma did not show any sign of distress. Gannu was fine. And both were chubby. On the day we were to be discharged at 26 weeks, I remember our doctor saying "They are like you Swagata, so chubby. They look fine, you are just fine. Come when you are in labour."
That very night, when we were planning our discharge, my cord prolapsed and I had an emergency c-section. Gamma & Gannu, our firstborns were born eleven minutes apart on 13th January 2020. They did not cry and were put in the NICU on ventilators.
Gamma my elder son did not make it beyond 12 hours, he left us on 14th Jan morning. Gannu was fine, improving and responding to my voice as I fed him. 2 days later, his lungs burst open, and he hemorrhaged. He passed away in my arms on 15th Jan, after I asked him to go. 
He literally waited for my permission because I kept saying, "fight my boy".
When I realized that I was forcing my will onto him and that he was in pain, I asked him to go. 5 mins later, he passed away. I did not cry a single tear until much later. And, I smiled at my baby and sang him to sleep. I was suddenly this courageous mother who was a role model to everyone in the hospital.
The entire department cried for me, and with me. They kept saying, we haven't seen someone as courageous as you. Where did I get my courage from? My guess is my children kept sending me strength. 
The social support was mixed.
Words of consolation felt like knives – "Time will heal", "You'll have another one", "They are in a better place right now". A part of my family told me not to share/talk about my loss in public because apparently it "looks bad." 
It was awful. Some friends recently told me, "Don't sulk on Facebook to gain sympathy…" when I posted about my babies. All of this just added to our trauma. 
10 days into my loss and I had reached my darkest place
I had stopped eating and was infected everywhere and I told my husband that I want to die and this is the best way. My husband then asked me "So you also want to leave me like our sons did? " 
He continued " Or, why don't you create something meaningful out of our pain? You are stronger than many. You can write and you speak well. Be a voice for the women who have lost everything, like you have. Live for them. Celebrate our children's short lives, live for that…" 
This immediately resonated with me. I started to eat and eventually, in the next month, I improved considerably from septicemia. My parents and my husband were my only support. Some friends were empathetic but unless one goes through it, the pain cannot be understood. 
A loss mom group from the US is what gave me my major support.
These strangers are were supportive of me always, probably because they know the pain and child loss is not taboo in their countries. I wrote an article about my grief and made a video later about my pain, in the early months of loss. They were shared 600 times and that made me feel that my feelings are valid and that I should talk about them more. 
9 months later, here I am…I have had many women open up to me about their losses because my story gave them strength. And I am determined to continue sharing my story if that brings strength to fellow loss mothers.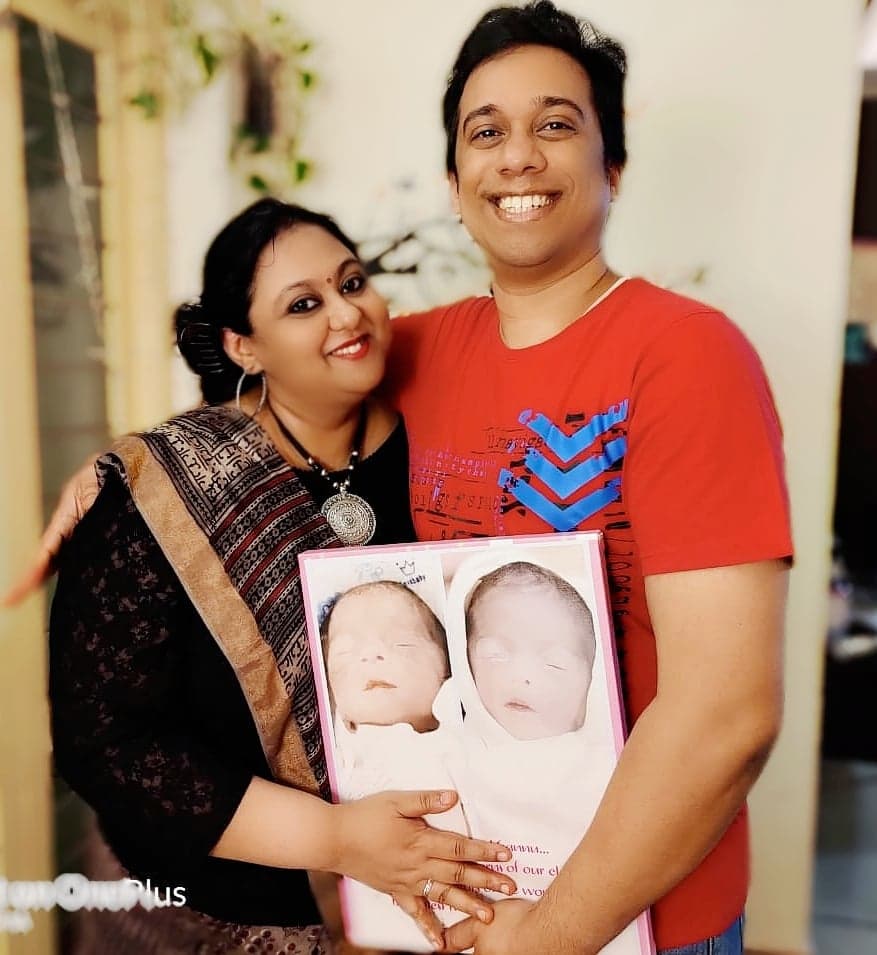 Swagata lives in Bangalore, India with her husband Anirban. They lost their fraternal twin boys Gamma and Gannu when Swagata's cord prolapsed at 26 weeks pregnant. The twins were born via emergency c-section on 13th January 2020, they lived for 12 and 48 hours. You can connect with her on Facebook and Instagram @scoopfulofswag